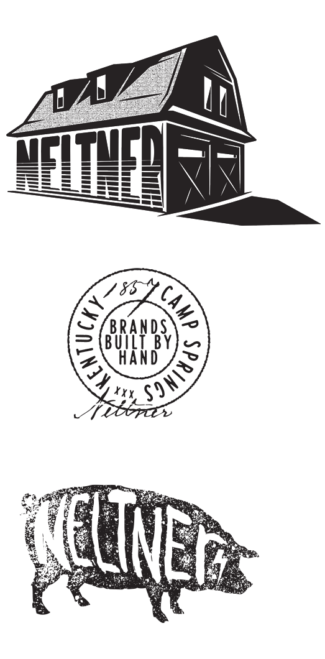 Whether you're enjoying the latest IPA release from the LIC Beer Project in industrial Queens, NY, sipping small batch bourbon in the 20's-era bar at the opulent Cavalier Hotel in Virginia Beach (where, by the way, former guests include presidents, Hollywood stars, and notorious gangsters), or drinking world-class craft beer born in a small Covington, Kentucky garage, you're experiencing Neltner Small Batch in our element.
We do work that blurs the line of traditional communication or the awful force-fed "marketing" speak in our daily feeds. No, this is work with an artful, thoughtful point of view, with ideas emanating from the core, grabbing you by the throat or the heartstrings…sometimes both. Brand development with depth and story, transcending location, tapping into something primal.
Making brand experiences where people gather to learn, rejoice, and live for the victory of the day: Life. Our goal is to create brand artifacts that are celebratory, revered and collected.
See, we do sweat for our craft. But we won't do it for just any brand or just anyone.
OUR SERVICES
BRAND IDENTITY, BRANDED ENVIRONMENT, BRAND STRATEGY, MOTION (VIDEO), MURALS, ILLUSTRATION, PACKAGE DESIGN, GIG POSTERS, BRAND NARRATIVE & NAMING, ART DIRECTION
"But you'll definitely recognize the style. That half Old-World, half Kentucky-rebel aesthetic. That half scrawly, half blocky script. That 100% of-this-place texture. That personality that swaggers in (with equal parts swing and grit) and plants itself firmly in your mind."
– Cincinnati Refined
This is how it all got started. Inspired by the musical influences he heard growing up on the farm – Waylon Jennings, Hank Williams, Alabama, and the Kentucky Headhunters, Keith began turning his illustrations into screen prints. His "rural-urban" aesthetic began to emerge and illustration was embraced in the underground music scene. Eventually, numerous national acts turned to Keith for poster design, including Shooter Jennings, The Black Angels, Heartless Bastards, Cake and Eric Church. This art is screened here, and shipped worldwide.